Meet Rocco!
You've had to dig pretty deep to find this page.  Now that you are here . . . welcome!  A few words of explanation.
It's a well known ploy to utilize at least one cloyingly emotional element in putting together a real estate website; you know, something to tug a bit on the heart strings of an internet visitor; something to make a Central Oregon Realtor seem just a little more like a real person.  Dogs are pretty useful.  Many are soft and cuddly. They are pretty non-controversial. Most are loyal, and friendly too. And who can say no to a good looking canine?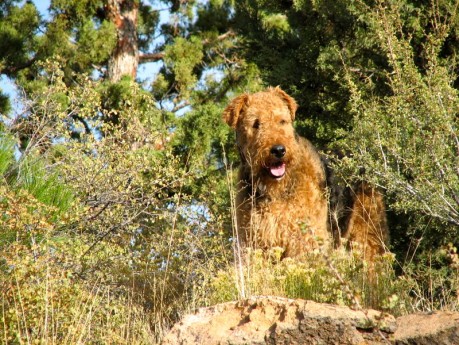 It used to be that golden retrievers were cool (and over-used in everything from business cards to print advertising); sort of a symbol for the American dream.  But they are decidedly passé now.  Pit bulls personify strength and tenacity, but are too "gangsta" for this site.  Chihuahuas are OK for some . . . suggesting petiteness, frailty, vulnerability. They seem to evoke sympathy; they can fit in a purse, and they don't eat too much.  But they are way too trendy (too Paris Hilton) for a guy like me.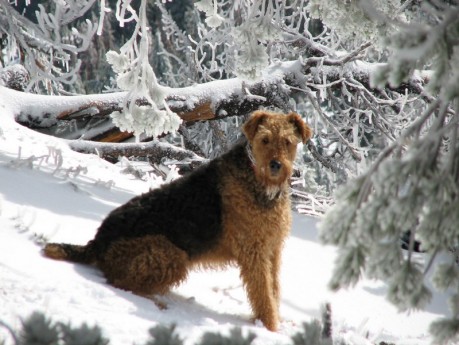 Now understand, we wanted to play the dog ticket too, but didn't really know how.  And we didn't want to use a picture of just any old furry mongrel.  Then the light bulb went on . . . it was so obvious—the answer was right before me.  We decided to use Rocco, our six year old Airedale.  He is honest, humble, handsome, hard-headed, very big (100 lbs.), and an absolute terror to uninvited solicitors who would erstwhile try to approach our front door.  I guess another way of saying it is that he is sort of a symbol for a lot of the things I'd like to be.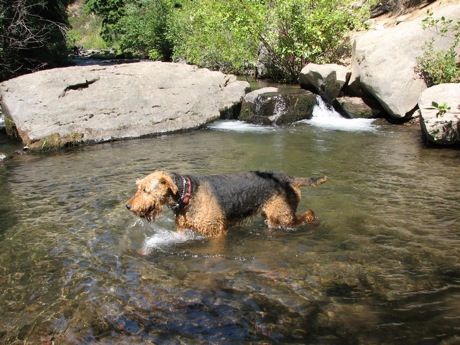 I'd like to relate a little story now. These are Rocco's words; it's his perspective.  " I was out on my morning walk, trotting casually  through one of Bend's most prestigious gated golf communities.  I paused for a moment to lift my leg and sniff the bunch grass that bordered the twelfth tee box. The morning was damp, the dew glistening on the freshly cut fescue. I admired the hillocks and the hummocks.  I could have been in Scotland.  Surreptitiously, I slipped away from my master.  Then I ditched him altogether, and set off on my own.  The day was mine now, the opportunities boundless.   I trotted along, oblivious, but utterly at peace with myself.  I was suddenly shocked out of my reverie . . . surprisingly (I thought they were all afraid of me!), a neighbor grabbed me, clipped me to his leash before I could even growl, and walked me back home.  In presenting me back to my master, he said, 'I believe this is your dog . . . I asked the neighbor kids what his name is.  They said, His name is Rocco, but we just call him BARKO.' " A true story.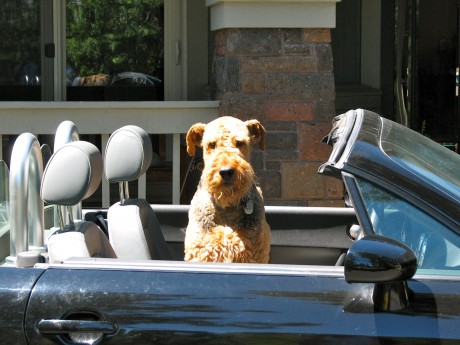 If you have questions about Central Oregon real estate, please call my master.  You're also welcome to use our incredible search mechanism to look anonymously for homes in Bend.