Bend Oregon . . . Sports Mecca
Bend Oregon has deservedly earned a reputation as a mecca for folks who love the outdoors. There are simply a myriad of potential activities . . . golf, cycling, boating fishing, skiing and snowboarding,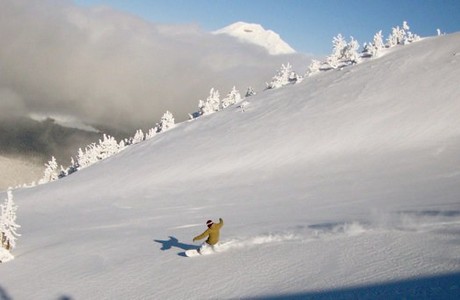 climbing; the list goes on. In recent months, Bend has been named as the "best town for sportsmen" by Outdoor Life, and as the #2 "death-defying city" in the country by livability.com
SUP in Bend
A new sport is alive and well in Bend . . . SUP or stand up paddling.  And while it's not Hawaii,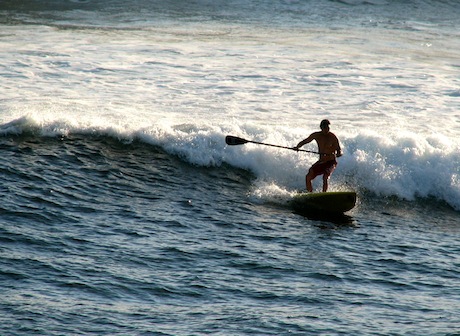 we do have a beautiful river running through the middle of town. A couple of weeks ago, when the weather felt  like winter, more than 50 competitors met at Riverbend Park
to race in the first annual Bend Paddleboard Challenge. Racers had the option of racing either a 2 mile course or a wicked 6 mile marathon.

Both events were held on a loop that took competitors up current to a buoy near the Bill Healy Memorial Bridge, down current to a buoy near the Les Schwab Amphitheater and then back to the start-finish line.
Long-course paddlers completed three loops, and short-course paddlers finished one.
Racers came in all sizes and shapes; all appeared to be having fun.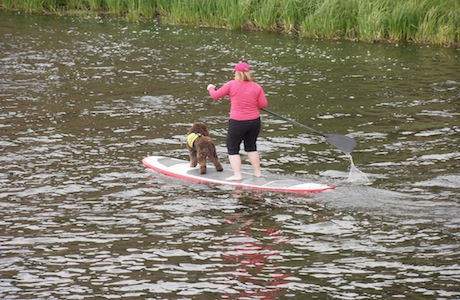 WPA Sanctioned
The Challenge was a World Paddleboard Association sanctioned event . . . part of a 6 series race circuit for the Pacific Northwest division. It was organized and hosted by Chip and Lainey Booth, owners of StandUpPaddle Bend, the retail store in the Old Mill District.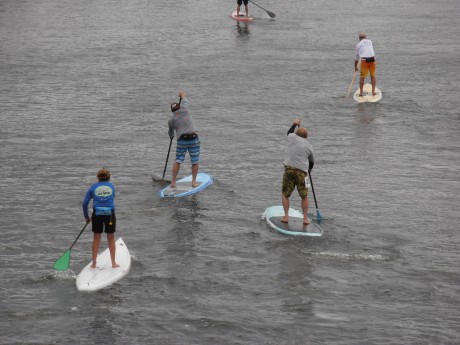 Race for the River
Paddling a 14-foot board, Chuck Patterson, of San Clemente, Calif., was the fastest of  all. The extreme sportsman, the WPA's top-ranked 14-foot paddleboarder in 2010, won the long-course race in 1:12:14.21. "The Deschutes River . . . it just calls you to come out and get in the water and paddle."
The next event, Race for the River, will be held August 13th.