JELD-WEN Sells Interests in Oregon Destination Resorts
It has been a while coming, but as forecast in previous posts Central Oregon Destination Resorts Face Uncertain Future and Brasada Ranch to Sell, JELD-WEN inc. has announced the sale of three destination resorts in Oregon to a new partnership comprised Northview Hotel Group ("Northview") and a subsidiary of funds managed by Oaktree Capital Management LP.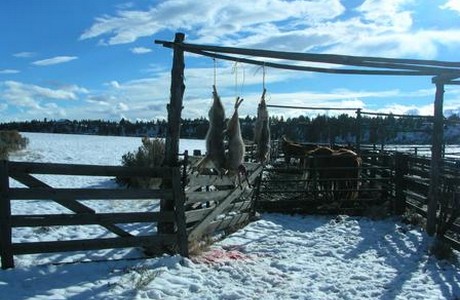 The sale includes Brasada Ranch in Powell Butte, Eagle Crest Resort near Redmond (Bend), and Running Y Ranch in Klamath Falls. The transaction was facilitated by Bob Eaton of Colliers International.
Letter to Brasada Ranch Owners
The sale of Brasada Ranch was first reported in a letter to property owners.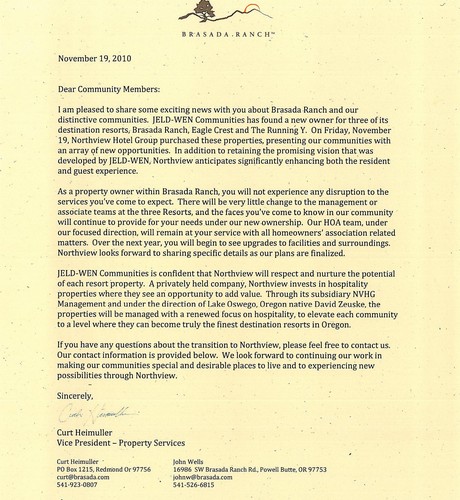 Northview to manage Resorts
Northview will manage the resorts on behalf of the partnership, and it will oversee a strategic repositioning plan focused on enhancing the resorts' amenities and the guest experience. David Zeuske, Northview partner and the president of NVHG Management, will oversee the management of the resort portfolio going forward.
"We are extremely excited to be involved with these three spectacular resorts and to have an opportunity to invest in Central and Southern Oregon's tourism and real estate industries. JELD-WEN has created three well-built and well-planned communities that are already recognized for their exceptional offerings," Zeuske said. "While I still entertain fond memories of my summers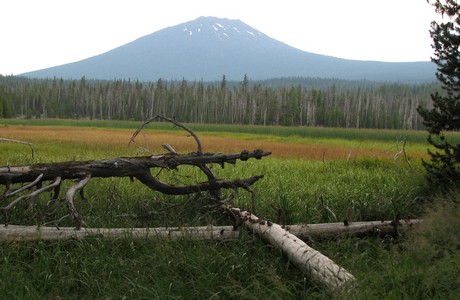 spent in Central Oregon, my partners at Northview and I are looking forward to creating lasting impressions for others at our new resorts for generations to come."
"This is an important strategic decision for JELD-WEN, and I am very pleased that Northview is such a great fit for the resort properties' strengths and future potential," stated Rod Wendt, JELD-WEN president and CEO. "I am very appreciative of all of the employees of JELD-WEN Development inc.," Wendt said.
Northview's Hospitality-Focused Approach
Northview's hospitality-focused repositioning strategy at the three resorts will leverage the solid foundation created by JELD-WEN, starting with the exceptional team of managers and associates, almost all of whom will be staying on with Northview. In addition to bringing its proprietary management tools and systems to the resorts, Northview intends to invest in upgrades at all three properties: from lobby and guest room renovations at Eagle Crest and Running Y Ranch to a newly enlarged spa, a reconfigured lobby, new meeting space and significant landscaping upgrades at Brasada Ranch (sounds good!).
Northview partner Simon Hallgarten expressed confidence in his firm's ability to realize the potential of each resort, citing recent experience at a project with similar scope managed by Northview in the Florida Keys. In 2007, Northview and its partners, Behringer Harvard and Five Star Realty, acquired Hawks Cay Resort in Duck Key, Fla. The resort includes a 177-room hotel, 297 privately owned villas, a full-service marina, numerous restaurants, a range of unique amenities and a successful real estate brokerage business.
At Hawks Cay Resort (www.hawkscay.com), Northview implemented a strategic repositioning strategy that included a $42 million renovation and significant improvements to the day-to-day operations of the resort, part of which involved working with the individual villa owners to create a new and enhanced rental management program. Under Northview's management, Hawks Cay has been awarded the coveted AAA Four Diamond Award and was recently named by Travel + Leisure as one of the Top 50 Resorts in North America.
Resorts Cater to Outdoor Enthusiasts
Located just 16 miles northeast of Bend in Central Oregon, Brasada Ranch (www.brasada.com), developed by JELD-WEN in 2005, offers a sophisticated high-desert lifestyle experience. Covering 1,800 acres, Brasada Ranch features 80 upscale cabins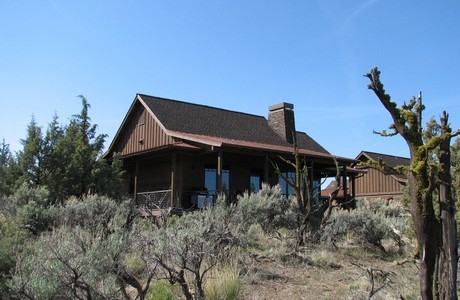 that are rented on a nightly basis, a small boutique hotel, upscale dining options, an over-sized fitness facility with three pools,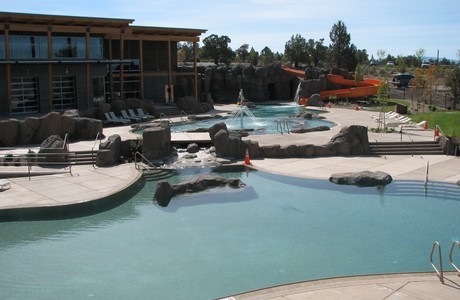 a spa, a world-class equestrian center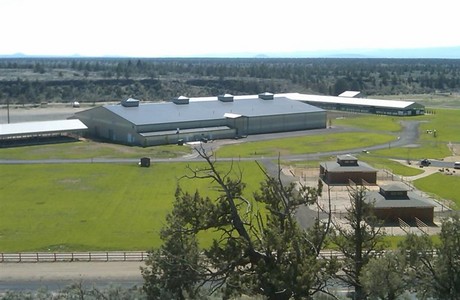 and an 18-hole championship golf course designed by PGA Tour professional and Oregonian Peter Jacobsen.
Ranch is located close to a host of exciting outdoor recreation activities, including numerous world-class golf courses in the Bend area, skiing, hiking, mountain biking, fishing, cycling and mountain climbing. Home sites at Brasada Ranch are available for sale. Northview's goal is to establish Brasada Ranch as "the finest destination resort and residential resort community in the Pacific Northwest."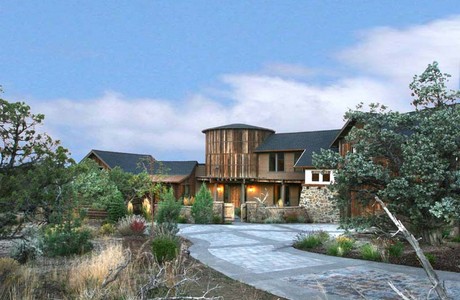 Eagle Crest® is an established full-service destination resort located just outside the city of Redmond, and just 20 minutes from Bend, on 1,700 acres in Central Oregon's high desert. The resort includes a 100-room hotel, three golf courses, fitness centers and pools, and a range of local amenities for outdoor enthusiasts, including hiking, biking, skiing, rafting, fly fishing and snowshoeing. Northview plans to implement a strategic capital improvement plan that will include significant upgrades to the hotel rooms, hotel lobby, meeting space, golf courses and grounds.
Running Y Ranch  is a full-service resort community located in Klamath Falls in the heart of Southern Oregon's Cascade Mountain range. Overlooking Upper Klamath Lake,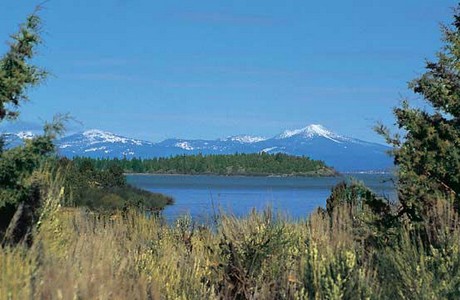 this community features 3,600 acres of wooded hills and meadows, an 83-room lodge and Oregon's only Arnold Palmer-designed championship golf course. The community features a range of well-appointed villas, townhomes and chalets. In the next few months, Northview intends to execute a capital improvement project focused on significant upgrades to the hotel guestrooms, lobby, exterior, golf course and grounds.
Northview Hotel Group, based in Westport, Conn., and San Francisco, Calif., is owned by Mark Mance and Simon Hallgarten. Northview was formed to make opportunistic hotel investments in the U.S. and overseas, and to provide hotel management, asset management and construction management services for owners and co-investors.
Learn more about new opportunities at Brasada Ranch.