March wasn't just about the myriad of tremendous powder days at Mt. Bachelor . . .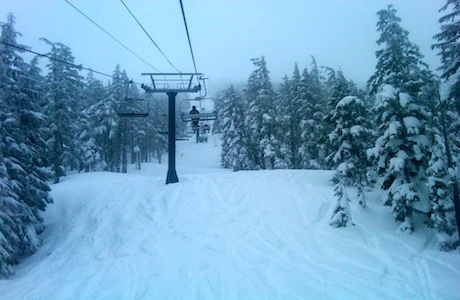 the Bend real estate market also showed a bit of early spring health. 152 homes sold in Bend, up a robust 34% from the 113 sold in February (homes in Bend); also, up about 3% from a year ago.
Price Range for Homes in Bend
The low-priced leader for the month was a 1050 square foot, 2 bedroom, 1 bath home  built in 1969.  Located in the heart of Bend's southeast side, the house went for $56,000. Yep, you read right.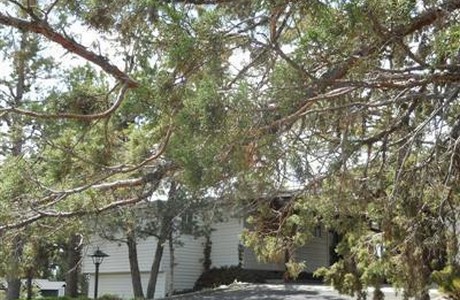 This home in Bend has "tons of possibilities." It may be just a bit chilly though . . . there is no heat source. The septic system is a "drill hole." Sort of reminds me of Australia! But, what do you want for a mere $53 per square foot?
The home also featured a cool and very unique backyard object . . . not really sure what it is, perhaps a protective moat or some sort of skateboard park terrain creation; either way–worth a picture.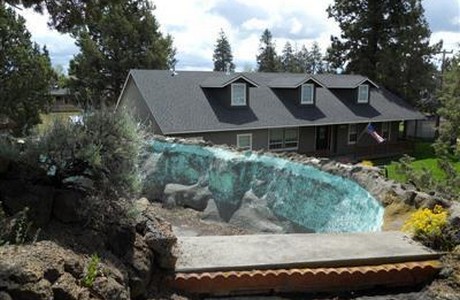 Stunning Broken Top at $2.25 M
A the other end of the spectrum was a magnificent 6512 square foot design on almost an acre on the twelfth fairway of the Broken Top Golf Course.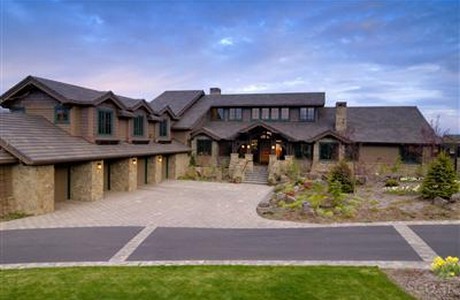 The home sold for $2.25 M (original list  price was a hefty $3.5M).  This "dramatic home is loaded with natural stone, slate, marble, granite, black walnut floors, knotty alder and mahogany cabinets, 4 fireplaces and more". Whew, makes me tired!
The home in Bend featured 3 bedrooms, 4.5 baths, and an exquisite feline wing. It was designed by Neil Houston, and built in 2002 by Madsen Construction.
Interestingly, both this home and the low-priced leader were listed by Cascade Sotheby's International Realty.
Median Priced Home in Bend
After some pretty significant declines, the median home price in Bend took a pretty good jump this month . . . up to $188,000 (or almost 11%) from February's figure.  The typical median priced home in Bend would resemble this single level in Starwood.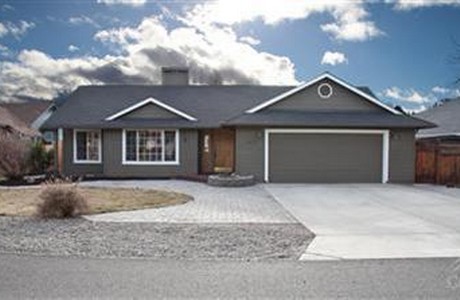 It features three bedrooms, two baths, 1720 square feet, and a nice cul-de-sac location.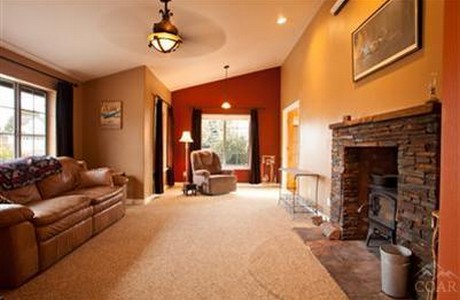 It sold for $109 per square foot.
Other Real Estate Trends in Bend
For sale inventory in Bend continues to be very low . . . only 495 active listings. That's down 33% from just a year ago. And, at present absorption rates, just 3.3 months of inventory! Distressed properties accounted for 58% of home sales in Bend . . . 42 short sales, 46 bank-owned. Difficult to say if this trend will continue as the number of Notices of Default (considered the first stage of the foreclosure process) was down radically to just 149 for March.  Shockingly, over the same period there were 331 Rescissions of Notice of Default . . . perhaps a topic for anther post.
Win A Burger!
On a lighter note–correctly identify the backyard feature in this month's low-priced leader (see photo above), and your favorite real estate experts will buy you a monstrous hamburger at Pilot Butte Drive-In.