Bend Real Estate
It seems as though 2017 has simply flown by. Now, after eight consecutive months of 200 plus sales, we saw a rather scary number (only 149 pendings) in November . . . an aberration or a normal seasonal adjustment?  Fortunately, the Bend real estate market (single family residential on less than an  acre) bounced back a bit in December with 190 sales, 161 pendings (ouch!), and just 2.3 months of available inventory.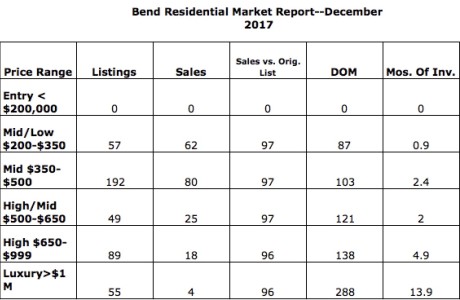 Our median price slumped to $394,500 . . . that's 5% off August's all time high of $418,000.
Affordable Bend . . . $244,000
One look at the top row of the chart above seems to say it all about affordable housing in Bend . . . there simply isn't any! For contrast, going back just 5 years to 2012, fully 34% of sales  were under $200,000; our chart looked like this: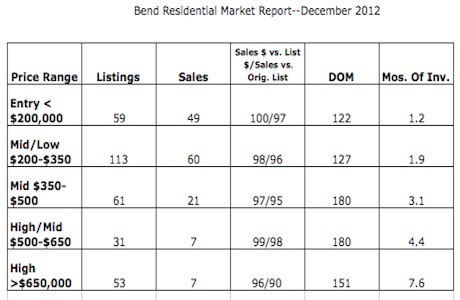 We didn't even have a luxury category and 23% of sales were distressed (bank-owned or short sales).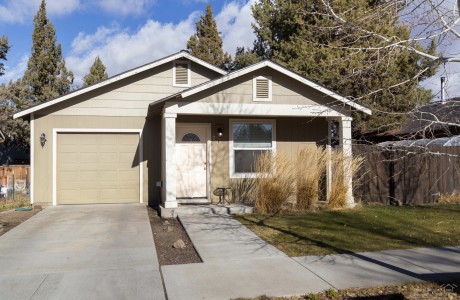 I'll forego the reminiscing. The low priced leader for the month was a two bedroom, one bath, 900 square foot cottage in the Paradise Lane neighborhood off of Wells Acres; it sold for $244,000 or $270 per square foot.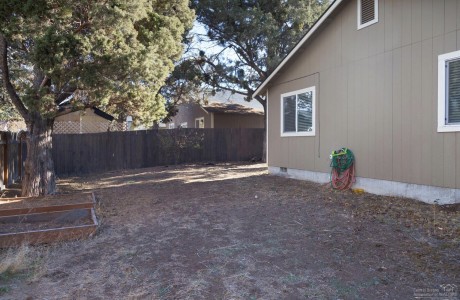 The house, built by Palmer Homes on a 50′ x 85′ lot, closed in just 32 days.
Median Price in Bend . . . $394,500
Continuing with our "back to the future" theme, five years ago Bend's median price was $247,000 (we all should have bought then!); last month it was $394,500.
Sort of boring, but for that price one could perhaps find a home like this new Hayden Home in Bailey Estates. It offered an open plan, a great kitchen, two masters, and a three car garage.  It sold for $162 per square foot.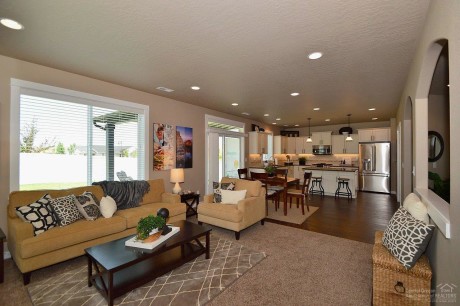 Luxury Bend . . . $2,045,000
Wow! Not often that a home in Bend, on less than an acre, sells for more than two million. But, this one-of-a-kind Pac West creation sits elevated above the second hole of Tetherow's David Kidd-designed track. It features gorgeous Cascade mountain views.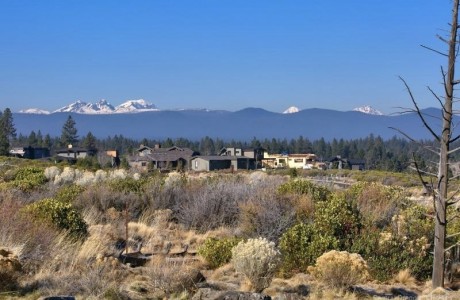 The three bedroom, 3.5 bath, 5181 square foot home went for $395/square foot.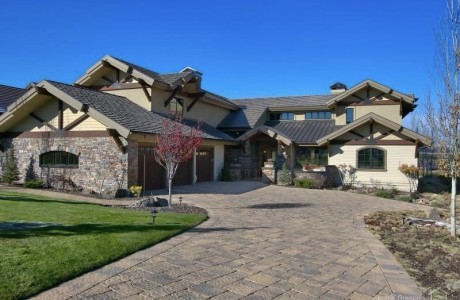 Incidentally, the only other two million dollar plus sale this year was a spectacular 8247 (that's the house size, not the lot size!) square foot riverfront home that sold in February after languishing on the market for two and a half years.
Looking ahead
2017 was another stellar year for real estate in Bend. We saw 2483 homes purchased . . . a total that nearly parallels 2016 numbers. Here's what the fearless pundit sees ahead for 2018.
The combination of continued in-migration and the dearth of available inventory will continue to drive the market and pricing in Bend.
Prices will climb, but at a slower rate. We'll go out on a limb and predict 4.4%.
Interest rates will remain low . . . around 4.5%
The "outlying" areas . . . Prineville, Redmond, Powell Butte, and La Pine . . . will see significant growth and subsequent price increases.
We'll see a welcome shift to smaller homes.
The effect of tax reform? Your guess is as good as mine!